MULTI-LAYER PROTECTIVE GLASS IN CONSTRUCTION
"SACURA-PRO" company produces multilayer impact-resistant and shatter-resistant glasses.
MULTI-LAYER PROTECTIVE GLASS IN CONSTRUCTION
Impact-resistant glass is protective glass that can withstand multiple impacts from a steel ball falling freely (mass 4.11 kg, diameter 110 mm) from different heights and is intended for the protection of windows, glass partitions, exhibition displays, showcases, etc. from various mechanical effects (throwing a stone, hitting with a solid object…)
The durability category of such glass is determined by the requirements of the DSTU standard EN 356:2005 (EN 356:1999)
Categories of resistance of impact-resistant glass
Sustainability categories
Ball drop height, mm
P1A
1500 ± 50
P2A
3000 ± 50
P3A
6000 ± 50
P4A
9000 ± 50
P5A
9000 ± 50
For protection categories P1A, P2A, P3A, P4A, the bullet is dropped on each sample being tested three times from the same height in such a way that the three points of impact of the bullet form the contour of an equilateral triangle with a side length of 130±20 mm. For the protection category P5A, the test must be repeated three times for each sample with the reproduction of nine blows – three for each point of the triangle.
K Test result: the sample is considered to have penetrated if the layer has completely passed through the sample within 5 seconds from the moment of impact.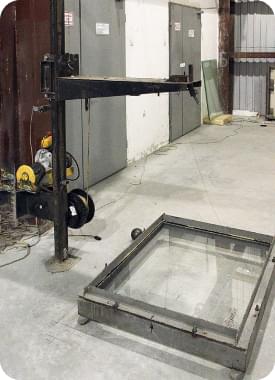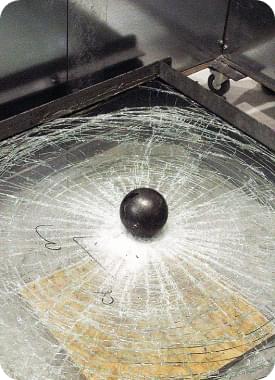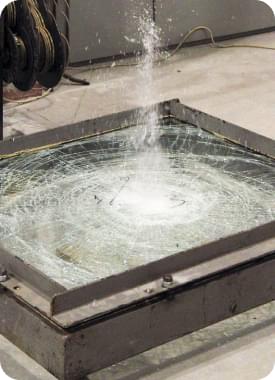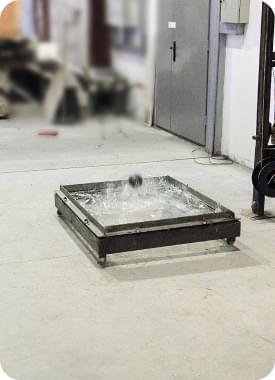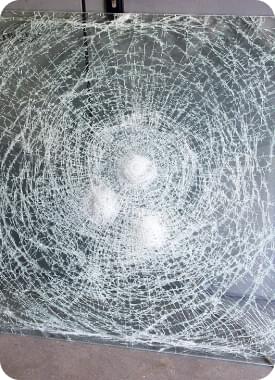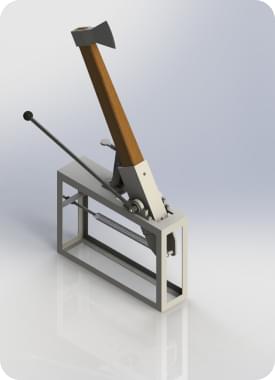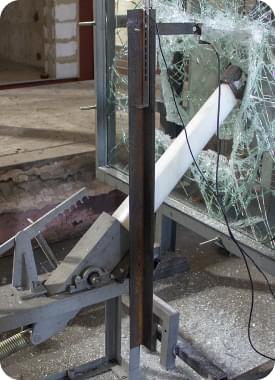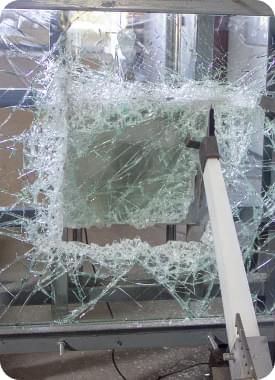 BREAK RESISTANT GLASS
Break-resistant glass is designed to protect against penetration into the premises through a window or glazed door. Shatterproof glass protects against hammer and ax blows.
The break resistance class is determined by the number of blows with a hammer and an ax in accordance with the requirements of DSTU EN 356:2005 (EN 356:1999) "Protective glazing Testing and classification of resistance against manual breaking".
Categories of resistance of shatter-resistant glass
Hammer and ax impact
Sustainability categories
Total number of hits
P6В
From 30 to 50 inclusive
P7В
From 50 to 70 inclusive
P8В
More than 70
The purpose of the tests is to punch a square hole with sides of 400 x 400 mm in a certain number of blows.
NOTE:
SPBO-2 bullet-resistant glass of class SK 2 (DSTU 4546) corresponds to the R6B fracture resistance category;
bullet-resistant glass from resistance class SK 3 and above corresponds to the category of breakage resistance P7B-P8B.
SUBMIT AN APPLICATION